2017 Conference Communications Council
The 2017 Conference Communications Council meeting, held on Saturday, February 4, was a fruitful gathering of pastors and congregational leaders. Folks from across PNMC were warmly welcomed by Albany Mennonite Church who graciously hosted the event, providing snacks and lunch. A group of brothers and sisters from Idaho tuned in long-distance through electronic communication.  In total, nearly 70 people participated.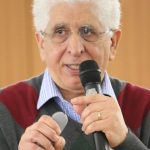 Although the content of the morning session regarding the ongoing Israeli-Palestinian conflict was heavy, it was inspiring to hear from Alex Awad, former Dean at Bethlehem Bible College. He and his wife, Brenda, currently live in Eugene, OR. It was a privilege to hear his passionate story and gain a deeper understanding of the conflict from a Palestinian Christian's perspective. Through stories, maps, and photographs, Dr. Awad was able to illustrate how government policies play out and affect communities in the region. It is a sobering situation with widespread consequences, leaving enormous questions, such as, "To whom does the Holy Land belong?"
Dr. Awad's message is pertinent to the upcoming Mennonite Church USA convention in Orlando. As a body of believers we are urged to take seriously the task of learning more about the issues facing the region in the Middle East. In 2015, a resolution, entitled "A Statement of Support for our Palestinian and Israeli Partners in Peacemaking" was passed in Kansas City. As our next national gathering draws near, congregations are encouraged to prepare for convention and to continue the conversation. The Mennonite Palestine Israel Network prepared a guide in response to the 2015 resolution. The resolution pledged to devote the next two years to learning about the situation and to discernment regarding the Mennonite Church response. The basis of the guide was written by Palestinian Christian leaders in 2009 as an appeal to the world, including their Christian brothers and sisters, to understand their situation and to respond with action. Kairos Palestine is deeply committed to Jesus' way of love and non-violence, even in the face of entrenched injustice. The resource provides helpful background information about the reality on the ground in the region in order to gain a more full understanding of the situation. It is available from MennoMedia for $5 and as a free download on the Mennonite Church USA website and through MennoPIN. (A Spanish translation will be available soon.)
Following Dr. Awad's presentation, participants enjoyed a time of fellowship followed by sharing at table groups. Participants studied Matthew 12:15-21 to sift for kernels of wisdom in the passage:
"Behold my servant whom I have chosen, my beloved with whom my soul is well pleased. 
I will put my spirit upon him, and he will proclaim justice to the Gentiles.
He will not quarrel or cry aloud, nor will anyone hear his voice in the streets;
a bruised reed he will not break, and a smoldering wick he will not quench, until he brings justice to victory; and in his name the Gentiles will hope."
The afternoon session was spent reflecting on visioning discussions from our Annual Meeting in June and continuing that conversation as we look ahead. Dimensions of PNMC that were identified as valuable in June included our sense of unity from worshipping together; our joy of community; our unity amid diversity; the safety net we provide for one another, and an open Christ-centered culture. In June, focus areas for the future were identified as being needed through peacemaking in our communities, justice in our communities; greater inclusiveness and diversity; and building stronger community through smaller gatherings among congregations. Table groups were asked to envision how conference might look five years from now and to think of specific ways that congregations can or could address the areas of opportunity. People were challenged to think about what's working and what isn't in their churches. How can we build and support healthy congregations? What are our dreams? What are our hopes for our faith community? These ideas were then shared with the larger group.
After PNMC Treasurer, Brett Tieszen, reported on the conference finances and ideas regarding the Peace Property in Portland, each congregational representative shared areas in which they would appreciate prayer as well as areas where they have found hope.