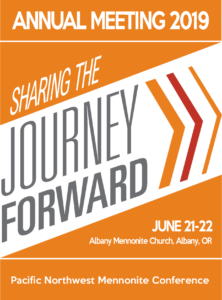 Pacific Northwest Mennonite Conference Annual Gathering 2019
Sharing the Journey Forward: John 20:19-23
June 21-22, 2019
All events will be at Albany Mennonite Church
Friday — Registration fee = $30
9-12 Healthy Boundaries 201 – required for pastors, other congregational leaders are welcome to attend. We will review the basics, then explore specific areas, including boundaries for using the internet and social media. Led by Katherine Jameson Pitts
12:00 Lunch for those attending HB 201
1-4:30 Educational Events – in-depth seminars based on the Journey Forward Renewed Commitments for MC USA <http://mennoniteusa.org/wp-content/uploads/2018/04/JF-_-DRAFT-Document-V3.pdf>
Follow Jesus – Missional Discipleship Initiative, Marvin Lorenzana, MDI Director, MMN https://www.mennonitemission.net/MDI. This workshop will be presented in Spanish with simultaneous translation for English speakers.
Witness to God's Peace – Being a Peace Church 2019, Colin Saxton, Everence Stewardship Consultant, former General Secretary of Friends United Meeting, former Superintendent of Northwest Yearly Meeting of Friends Church, and Katherine Jameson Pitts, PNMC Conference Minister
Experience Transformation – Trauma Awareness and Response, Sue Park Hur, MC USA Denominational Minister
5:30 Pastor Appreciation Dinner – pastors and spouses enjoy time together hosted by the PNMC Board
7:00 "Is there a Lesson?" The Pacific Northwest Mennonite Historical Society is hosting a showing of this Anabaptist European Heritage Documentary with John Ruth. All are welcome to attend.
Saturday – registration fee = $30
7:30 New Delegate Breakfast
8:30 Worship Service
10:00 Break
10:30 Delegate Session
12:00 Lunch
1:00 Affinity and Interest Groups
3:00 Break
3:30 Delegate session
4:30 Closing worship
5:30 Dismiss