Pastors Mathew Swora and Jana Gingerich, along with Kara Kropf and Karen Tro from Zion Mennonite attended the "Deep Faith" conference focused on faith formation for all ages at AMBS

October 6-8

.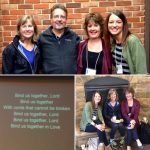 Three keynote speakers — John Roberto, president of Lifelong Faith Associates; Rachel Miller Jacobs, assistant professor of congregational formation at AMBS; and Brian Quan, lead pastor of Toronto (Ontario) Chinese Mennonite Church — addressed the conference, which also featured daily worship, an assortment of workshop choices and optional evening activities.
Nearly 30 workshops addressed topics of:  physical and emotional dimensions of faith and learning, specific faith formation resources, age-group dynamics from children to grandparents, and various other aspects of worship and Christian education. Evening activities included a nature walk, conversation groups, a coffeehouse exploring contemporary song choices and a tour of the adjacent Mennonite Church USA offices.
From Kara Kropf:  "Very hard to caption what the last 3 days have been. Anabaptist faith formation: spiritual renewal, hope, energy, passion for Jesus & the church, diversity, relationship, the value of our youth & all ages….literally deep faith. Thank you Zion Mennonite for your willingness to invest in this conference!