Remembering Rick Leroy Troyer
Your continued prayers for the family and the congregation are appreciated. A funeral service will be held at Fairview Mennonite Church on Saturday, November 3, 2018, at 10:00 am.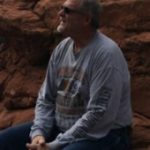 Rick Leroy Troyer passed from this earth into the arms of his Savior Jesus Christ on Tuesday, October 16th at 10am. Rick was born in Milford, NE to Cloy and Norma Jean Troyer on July 18th, 1955.
He grew up in different states including Nebraska, Arizona, California and Oregon as his family moved across the country to the west coast. He graduated from Western Mennonite High School in 1973.
It was in high school that he met his future bride, Joan Arlene King, and they were married shortly after graduation on July 25th, 1974. Together they raised 2 children, Aaron and Tiffany, in a God-loving home.
In 1984 Rick received his call from his Heavenly Father to go into ministry. So in 1986 his family packed up everything and moved to Kansas, where he attended Hesston Mennonite College in their first Pastoral Ministries Program. After graduating, the family moved to Eureka, IL where he became a pastor to Roanoke Mennonite Church. He pastored not only the church, but the community at large in central Illinois for 18 years. He was also a chaplain at the Eureka Community Hospital.
In 2005, Rick and Joanie Troyer started the next chapter of their lives together by returning to Oregon. He became a pastor of Western Mennonite Church, and also to the Lincoln community as a whole. Rick was also actively involved with ministering to the people of Mexico. He loved to "go out" and share the Good News with the people, and to grow the young pastors as they led their flocks. He continued these ministries until he day he went home to Jesus.
To sum up the life of someone is not usually easy, but for Rick it is simple. He was a passionate man who lived out Matthew 25: 31-46. "The King will reply, 'Truly I tell you, whatever you did for one of the least of these brothers and sisters of mine, you did for me." Rick cared about people, built relationships, and shared the Good News Christ brought to all around Him, no matter where they came from or who they were.
Rick is preceded in death by his father Cloy Troyer and his brother Tony Troyer. He is survived by his mother Norma jean Troyer; his wife Joanie Troyer, his son and daughter in law Aaron and Shanon Troyer, his daughter, Tiffany Hallowell, his four grandsons: Brody, Gavin, Max, and Jake, and two sisters: Gwen Kropf family and Cynthia Clark family.
We, the family, would like to thank everyone for the compassion, care, and especially all of the prayers through this time. We are blessed by the outpouring of love we have felt. It is a blessing to be able to see and feel all of the lives that have been touched for Christ through His servant Rick. A funeral service will be held at Fairview Mennonite Church on Saturday, November 3, 2018 at 10:00 am. A graveside service will follow immediately afterward.
In lieu of flowers the family asks that donations be sent in support of Sinaloa Mexico Mission and Outreach thru Western Mennonite Church at 9045 Wallace Rd NW, Salem, OR 97304.