Now is the time to register for the 2017 PNMC Annual Meeting. This year's gathering will take place at Menno Mennonite Church, located halfway between Ritzville and Moses Lake. The gathering will be hosted by our brothers and sisters from Menno Mennonite Church (Ritzville, WA) and Warden Mennonite Church (Warden, WA).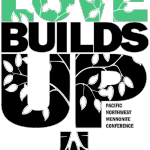 The purpose of our annual gathering is to build up congregations through workshops that add skills, to enrich our conference through fellowship that creates relationships, and build up our witness to the world through inspiring worship, and challenging one another to greater faithfulness. Our Love Builds Up theme comes from 1 Corinthians 8 in the discussion of meat offered to idols; realizing that eating or not isn't the issue, the spiritual well-being of our brothers and sisters is.
We are grateful to both the Warden and Menno congregations for hosting the event. Again, the gathering will take place at Menno Mennonite Church, where Lyn and Jeannie Hershey begin as interim pastors on May 15. Check out the Eastern Washington 2017  for details, including registration, the Delegate Handbook, schedules, hotel info and more!
Eastern Washington is a busy place with many summer events scheduled. If you plan to attend, book your accommodations as soon as possible in order to guarantee lodging.